February 2015

S

M

T

W

T

F

S

1

2

3

4

5

6

7

8

9

10

11

12

13

14

15

16

17

18

19

20

21

22

23

24

25

26

27

28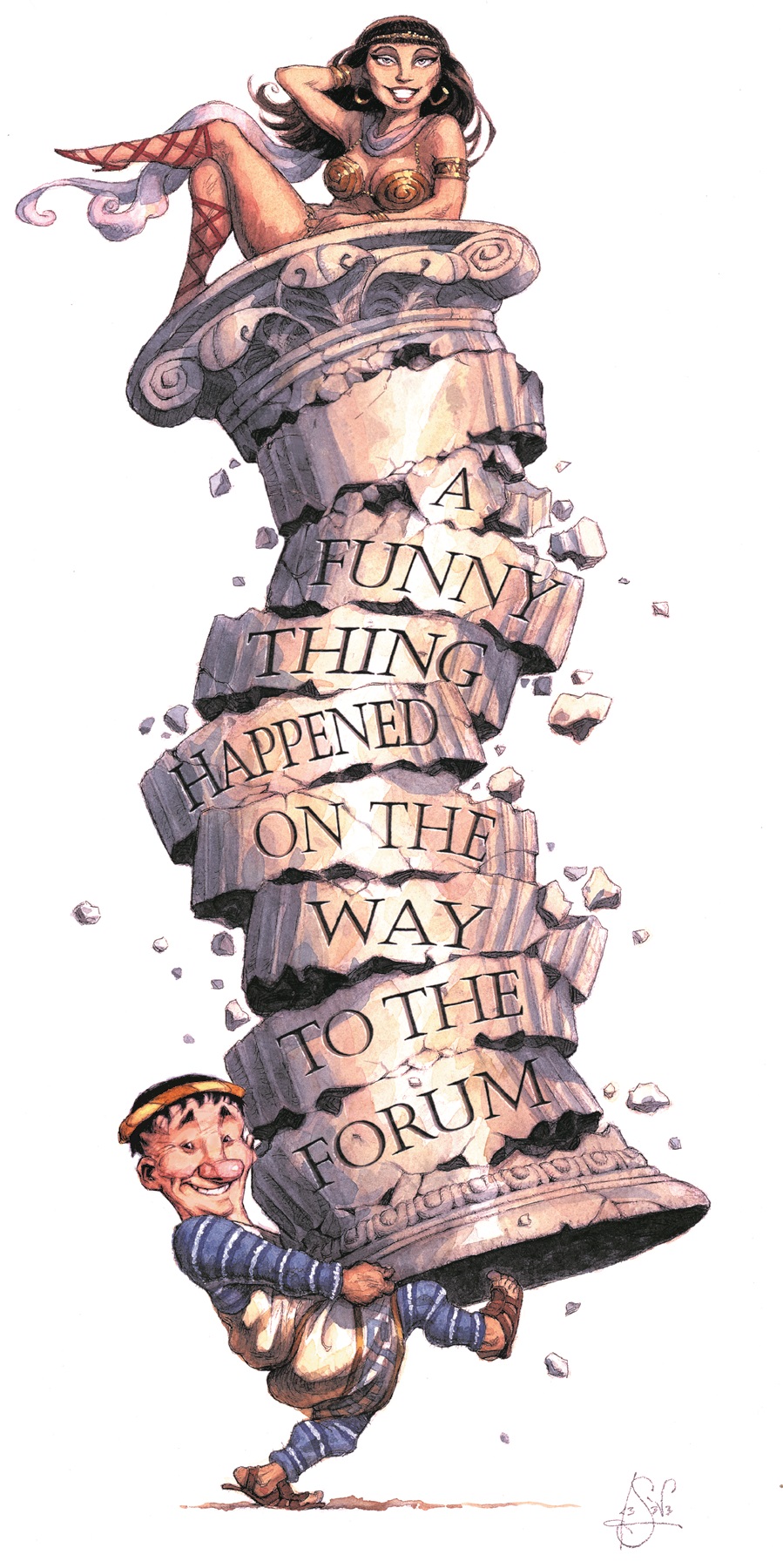 A FUNNY THING HAPPENED ON THE WAY TO THE FORUM
Principal Players Musical 2015
FRIDAY, FEBRUARY 27 - 7:30pm
SATURDAY, FEBRUARY 28 - 7:30pm
SUNDAY, MARCH 1 - 2:00pm
Alfred H. DiDonato Auditorium
Considered Broadway's greatest farce, "A Funny Thing Happened On The Way To The Forum" takes comedy back to its roots, combining situations from time-tested, 2000 year old comedies of Roman playwright Plautus with the infectious energy of classic vaudeville.

A non-stop laugh-fest, our show tells the story of Pseudolus, a crafty slave, as he struggles to win the hand of a beautiful but slow-witted courtesan named Philia, for his young master, Hero, in exchange for freedom. The plot twists and turns with cases of mistaken identity, slamming doors, and a showgirl or two. This light, fast-paced, witty and irreverent musical allows a terrific ensemble of comedic actors to shine--"something for everyone, a comedy tonight!"

Join us as the Cresskill Principal Players pay tribute to one of the funniest musicals ever written. Performances are on Friday, February 27th at 7:30pm - Saturday, February 28th at 7:30pm - and Sunday, March 1st at 2:00pm. Advance tickets for these performance are $15 for adults and $12 for senior citizens and students. At the door tickets for these performances are $17.00 for adults and $14.00 for senior citizens and students. All tickets may be purchased through the Music Department staff or online at http://www.seatyourself.biz/cresskillmusic. Early ticket purchase is encouraged as this production is reserved seating and tickets are available on a first come-first served basis.

Tickets go on sale beginning Monday, February 2nd and can be purchased in the Music Offices at Cresskill High School, from any cast member, or on-line at www.seatyourself.biz/cresskillmusic. For additional information, please contact the Music Department at 201-227-7791.We hope to see you there!

PARENTS - VOLUNTEER - GET INVOLVED - JOIN OUR MUSIC BOOSTERS!
Our Music Booster Organization is a vital part to the success of our Music Department. By assisting our Executive Board by volunteering at just ONE of the various events throughout our school year, you would assist us in making so many things happen. Please take time out to assist us during any one of the performances or events throughout the year - attend our Music Booster meetings - fresh input and new ideas are always welcome! Help us help your children!

ALUMNI - JOIN US ON FACEBOOK!
The Music Department has setup a group specifically to keep in touch with our Music Department Alumni. From information about concerts, to new and exciting things that are happening - keep up-to-date with us as well as catch up with the rest of the alumni as well. If you know of friends that were a part of the Cresskill Music Department - get them involved too! Our direct link to the Facebook group is Cresskill Music Department Alumni on Facebook.

For all general school information, go to
Cresskill Public Schools Website.
If you have any problems reading our .pdf files, please be sure to download the latest version of Adobe Reader from www.adobe.com
If you cannot read our navigation bar, please be sure to download the latest version of Adobe Flash Reader from www.adobe.com
This site is best viewed on graphics setting higher than 800x600.